Twice nightly Cairo to Aswan via Luxor Sleeper (Wagons Lit) trains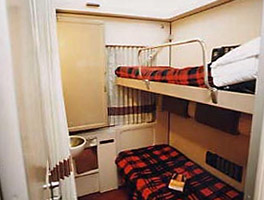 Departs 20.00 hrs and 21.35 every evening from Giza Railway Station (connected to Giza Metro Station) Giza, Cairo.
Tickets can be purchased at the Giza Railway station, or from Ramsis Station Downtown , from window marked Sleeper Train opposite platform 11. It is wise to book 24 hours previous to ensure a cabin.
Tickets must be paid in
CASH
in US $ or EGP and ticket price is $60 or 360EGP per person.
Cabins are comfortable and sleep two persons in fold down seat beds. Interconnceting door allows one large cabin for children or 4. All linen is provided and there is a small washhand basin and towel provided. Attendants will come when you press the button to turn down and make your beds when you choose.
Each cabin starting the journey has a sofa for two persons. After having dinner, the car steward turns the sofa into two beds. The cabin has a basin with hot & cold water, a razor shaving point, two towels, buttons for controlling heating, music & lights, 2 coat hangers, individual reading lights and 2 dining tables.
Toilets are located at each end of the sleeper section and all cabins have hangers to hang a few clothes and a large overhead luggage compartment.
Dinner is served in your cabin on leaving the station, consisting of a basic hot meal of rice, meat, pasta, bread and potatoes served with tea or coffee and a piece of fruit.
There is a smoking carriage in the middle of the sleeper section where hot and cold drinks and small snacks can also be bought.
Wake up call for Luxor is at 04.00 giving passengers time to wash and dress and have breakfast consisting of bread and cheese, croissant and jam and honey and a Danish pastry served with coffee and tea.
The train arrives in Luxor Main Station at 05.15 hrs and 07.10 hrs.
Schedule and Prices
Schedule here:
Egyptian train booking times and fares info
Book here: